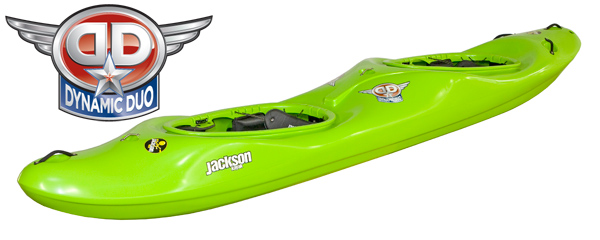 Tandem Kayaks
Welcome to the future! While tandem kayaks have been made before, it was time to make a modern tandem boat that is suitable for teaching in, for bringing friends, significant others, kids, and really opening up paddling to those who don't want to go solo! This is a high performance tandem with all of the comfort, dryness, durability, ease of rolling, and outfitting of our top of the line Hero series.
Based on the Hero, and the concept that sometimes, two Heroes are better than one, this will be an easy boat to be confident in.
Personally, I (EJ), am excited to paddle it with my kids, my wife, and my friends!
It is my new teaching tool and my way to take class 1 or 2 boaters down class 3 with confidence.
Look for this boat on a river near you in December of 2008! Here are some specs and CAD Photos compliments of the man, the myth, and the legend of whitewater boat design, my design partner since 1994, David Knight….
Dynamic Duo Design Specs:
Assume total optimum weight range is 120-230 kg for both paddlers and boat.
Designed for optimum size/weight paddlers bow and stern, but to have good performance over a wide range of weights and distributions.
"Rocker" equivalent ergonomics for elbows and knees- very smooth and non-intrusive.
The following two CAD drawings show how the boat will sit in the water with two different weight paddlers in the bow and stern, and then if they switch positions. What they illustrate is that this boat will do very well with a wide range of paddlers of different weights and either one can sit in the back
| Model | Play | River | Creek | Lake |
| --- | --- | --- | --- | --- |
| Dynamic Duo | | | | |
| Model | Length (cm) | Width (cm) | Height (cm) | Volume (l) | Weight Paddler (kg) | Ideal Creeking (kg) | Ideal River (kg) | Ideal Rodeo (kg) | Ideal Univerzal (kg) | Cockpit Dimensions (cm x cm) | Weight (kg) |
| --- | --- | --- | --- | --- | --- | --- | --- | --- | --- | --- | --- |
| Dynamic Duo | 366 | 67 | | 538 | 13-91/41-136 | | | | | | |