Rock Star Series 2011
The Basics: Shorter, faster, bigger looping, easier cartwheels, looser, lighter, and snappier makes playboating a joy! Once again a boat that makes you better, right away! The secret? Refined rocker profile, drop chines, more volume, refined bow shape, balanced volume distribution, and a new higher seating position that gives you more leverage.
The Playboater's Advantage: What you can expect when you get in the cockpit of this new high performance machine.
Beginners will be more challenged for river running, but be rewarded with easier/bigger/faster moves. The higher seating position will take some getting used to, but if you want to progress uber fast, go for it. For the best in conventional playboating and seating - get the 2010 All Star.
Intermediates will truly know they have jumped into something special. It will take a day or two to get used to sitting 1.5" higher up, but Moves will be easier, bigger, snappier, and your friends will be impressed with your playboating in your first day. The speed and looseness of the hull will shock you as the boat is a full inch shorter than the All Star.
Experts will rock this boat after a few rides to get used to the 1.5" higher seat. Wave riding will be more aerial, faster, looser, and the moves will feel effortless. Hole riding will be like a trampoline ride. Powerful launches up and out of the water for loop moves, while the boat will rotate around your body like a pin-wheel for vertical moves due to the improved volume distribution (more in the stern). McNasty and Phonix Monkey moves were made easier with improved rocker profile in the bow to allow it to "reel up" high before throwing. Wow, then Wow, and at least another 20 Wows every time you try something different.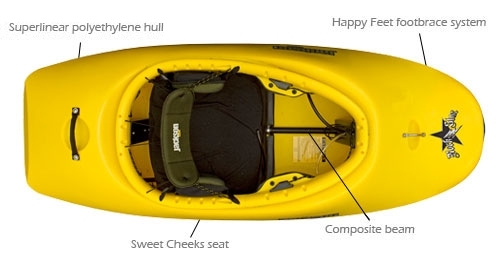 Rock Star compared to All Star
While moves are easier and bigger, faster, etc.. the All-Star has the standard seating position and is simply the easiest playboating package for beginners, or anyone who doesn't want to get used to a higher seat.
Key features that set the Rock Star apart from the Star series:
3 more gallons – but cartwheels easier – goes bigger
1" shorter- but faster
Sit up higher – 1.5" and more leverage, everything easier, but takes a little getting used to.
New rocker in center 2/3rds
Better/looser hull – WAY looser
Specs: Hybrid
Superlinear polyethylene hull
Welded-in plastic seat track
Sweet Cheeks seat
Happy Feet footbrace systém
The hull is made from Superlinear, a metallocene-catalyzed polyethylene that is the whitewater industry standard. This stuff is super-strong and fairly easy to repair, in the unlikely event that you ever break it.
Elites feature a seat with "Sweet Cheeks", Jackson's unique, custom-fit butt-pad, for all-day comfort.
"Happy Feet", another Jackson exclusive. Happy Feet are a customizable footbrace system that not only adjusts for length, but actually contours to fit your foot shape and angle.
| Model | Play | River | Creek | Lake |
| --- | --- | --- | --- | --- |
| Rock Star 2011 S | | | | |
| Rock Star 2011 M | | | | |
| Rock Star 2011 L | | | | |
| Model | Length (cm) | Width (cm) | Height (cm) | Volume (l) | Weight Paddler (kg) | Ideal Creeking (kg) | Ideal River (kg) | Ideal Rodeo (kg) | Ideal Univerzal (kg) | Cockpit Dimensions (cm x cm) | Weight (kg) |
| --- | --- | --- | --- | --- | --- | --- | --- | --- | --- | --- | --- |
| Rock Star 2011 S | 165 | 63,5 | 34 | 185 | | | | | | 48x82 | 12 |
| Rock Star 2011 M | 175 | 66 | 36 | 220 | | | | | | 51x88 | 13 |
| Rock Star 2011 L | 183 | 70 | 38 | 254 | | | | | | 73x118 | 15 |