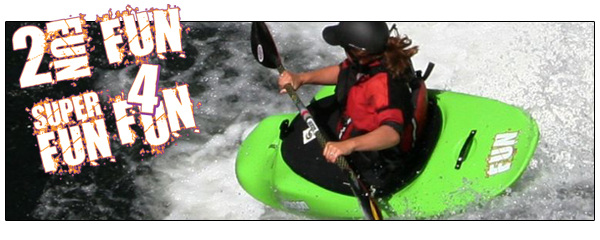 Fun Series 2007 Classic
The New Fun floats the amazing simplicity and versatility of the classic design to the next level of performance– and in so many ways!
Comfort: ergonomically advanced so even more body types can paddle happily all day.
Rollability: you deserve the confidence that the low stern, flexible backband, and flared sidewall of our Fun series provides every level of paddler – it's the easiest boat to roll ever!
Easy Play: from simple surfing and effortless spins to stern-squirts and cartwheels (and far beyond) every level of paddler will appreciate the slippery, streamlined advances for play in 07.
River-running: now even MORE forgiving, easier to change directions, and smoother riding across rocks, this NEW Fun takes the confident stability of the classic into more technical places.
How is this possible? Here's a more technical rundown of the specific improvements:
More Volume: improvements in leg and foot-room pump up the volume from 51 gal to 53, resulting in floatier river running and bigger loops while a 1/2'' increase in hull-width improves initial stability.
Slicier Shape: the new design reduces water resistance, making it easier to get vertical in flatwater. You're sure to find the New Fun takes less effort to cartwheel at every spot.
Rounded Deck Edges: the new friendlier deck shape and softened stern edge not only allows water to run off smoother for quicker re-surfacing but also protect your hands and elbows from sharp corners, edges, or deck-lines.
Improved Cockpit Design: you'll find it much easier to get in and out of the New Fun because we've raised the leg area and improved the ease with which the skirt goes on and off the boat More Foot-room: not just more, but an improved shape to better fit your feet.
Faster, Looser Hull: this new hull is EASIER TO SPIN, faster on waves, and carries more speed through crisply carved turns. A slight crown replaces the grooves to create a silky smooth feel whether on sliding down small waves, big waves, or rocks.
| Model | Play | River | Creek | Lake |
| --- | --- | --- | --- | --- |
| Fun 1 | | | | |
| Fun 1.5 | | | | |
| 2 Fun | | | | |
| Fun | | | | |
| 4 Fun | | | | |
| Super Fun | | | | |
| Model | Length (cm) | Width (cm) | Height (cm) | Volume (l) | Weight Paddler (kg) | Ideal Creeking (kg) | Ideal River (kg) | Ideal Rodeo (kg) | Ideal Univerzal (kg) | Cockpit Dimensions (cm x cm) | Weight (kg) |
| --- | --- | --- | --- | --- | --- | --- | --- | --- | --- | --- | --- |
| Fun 1 | 160 | 51 | 27 | 99 | 20-45 | | 27 | 36 | 32 | 39x71 | 9 |
| Fun 1.5 | 175 | 56 | 30 | 133 | 30-54 | | 37 | 53 | 46 | 44x79 | 10 |
| 2 Fun | 189 | 61 | 33 | 178 | 45-75 | | 45-66 | 54-75 | 54-68 | | 13 |
| Fun | 198 | 64 | 34 | 204 | 57-86 | | 57-79 | 66-86 | 64-82 | | 14 |
| 4 Fun | 207 | 67 | 36 | 234 | 75-104 | | 75-95 | 86-104 | 82-100 | | 15 |
| Super Fun | 216 | 70 | 37 | 265 | 86-141 | | 86-118 | 95-141 | 95-120 | | 16 |