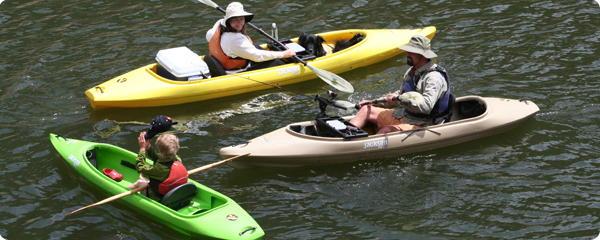 Tripper Series
We are proud to announce the "Tripper Series" series as the first line of kayaks from Jackson Rec. These are an important lineup as they will provide three sizes of recreational kayaks that allow for an entire family to paddle together. They are fast, stable and designed for ultra comfort. They also have the capacity for getting you, your favorite pet, or all the camping gear you could need for a great weekend getaway easily accessed from the seat of your kayak! The Tripper Series line has three different sizes, geared to ensure that you have one to fit every size of person, or for an entire family.
Mini Tripper - At 9 feet long this kayak has been designed specifically for kids in every way. This won't just be just an adult boat sized down for kids… The Mini Tripper has design features that allow kids to paddle with the confidence required to enjoy all that paddling offers. It's design provides for quite an impressive hull speed and keeps up well with the adult versions while still providing amazing stability. This boat, just like the adult versions, is ultra comfortable, tracks like it's on a rail and is very stable. It's light enough for most kids to handle carting it on their own, paddles straight, and it has a built in tow rope…just in case they get a little tired! The "Sweet Seat" or the molded in seat version are both available for this size.
Day Tripper 10 - This 10 foot kayak is perfect for those looking to get outside and paddle till their hearts content. With the "Sweet Seat" removable seating or the less expensive molded in seat option you are promised to have the most comfortable experience you could imagine. As you can see in the CAD drawings the design is very favorable for those that like a stable but fast hull and also like to access gear while paddling. This kayak is going to be perfect for the paddler that loves to fish, enjoys not being cramped in a tight cockpit, and might even want to bring along their dog!
Day Tripper 12 - This largest version of the Day Tripper line is the faster version of its little brother (Day Tripper 10). Here is where it gets REALLY COOL… The "Sweet Seat" model has the ability to add a second Mini tripper "Sweet Seat" seat, instantly making this a tandem boat for an adult and a child… Very cool indeed. It's perfect for the adult that is looking to take advantage of longer paddling, lakes, inlets or any protected waters for that matter. This boat, like all Day Tripper's, comes in two versions the base model with a molded in seat, and the Elite model with our "Sweet Seat" removable seat system.
| Model | Play | River | Creek | Lake |
| --- | --- | --- | --- | --- |
| Mini Tripper | | | | |
| Day Tripper 10 | | | | |
| Day Tripper 10 Elite | | | | |
| Day Tripper 12 | | | | |
| Day Tripper 12 Elite | | | | |
| Model | Length (cm) | Width (cm) | Height (cm) | Volume (l) | Weight Paddler (kg) | Cockpit Dimensions (cm x cm) | Weight (kg) | Carrying Dimensions (kg) |
| --- | --- | --- | --- | --- | --- | --- | --- | --- |
| Mini Tripper | 279 | 58 | | | | | 12 | 57 |
| Day Tripper 10 | 305 | 76 | | | | | 21 | 136 |
| Day Tripper 10 Elite | 305 | 76 | | | | | 22 | 136 |
| Day Tripper 12 | 366 | 76 | | | | | 24 | 170 |
| Day Tripper 12 Elite | 366 | 76 | | | | | 25 | 170 |